We have successfully crossed one item off of my
pre babies wish list
.... and I have to tell you I am pretty excited about this... we bought a new washer and dryer! Okay this may not seem that exciting but believe me, if it took you close to three hours to do one load, you too would be doing a happy dance.
We went on a bit of a blitz on the weekend, well a four store blitz... just to make sure... since it really was love at first sight. There were two cycles that I really wanted in a new washer... a hand wash cycle (I had this at home with my parents and loved it) and a sanitize cycle (this could definitely come in handy with oh... two babies). Also, these machines need to be quiet... close to silent.... as they are on our upstairs floor. We knew we wanted front loading high efficiency machines so it just came down to brand and price.
We debated between two Samsung models and the LG brand. Samsung won. There were just too many reviews online about the LG model citing mold on the seal in the washer door.... mold and a germ-a-phobe do not mesh so that was out of the question! So the Samsung won.
They just arrived and I am itching for Andrew to get home and hook them up so I can throw in a bunch of delicates that I have been procrastinating on washing...
Heidi
is anxious too as she is up there giving them a full inspection and likely trying to figure out what they do and where the old ones went.
I so wish we lived somewhere that was eternally warm so we too could hang our sheets and clothes to dry outside in the sunshine.... a girl can dream!
Happy washing to you too!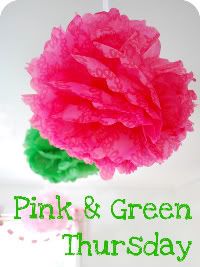 I have been noticing all of these pink and green Thursday posts so I thought I would join in. I realize my pictures this weak are rather weak in the pink and green department so I promise I will do better next week!